Jun 16, 2022 05:05 PM Central
Dr. Nozella Brown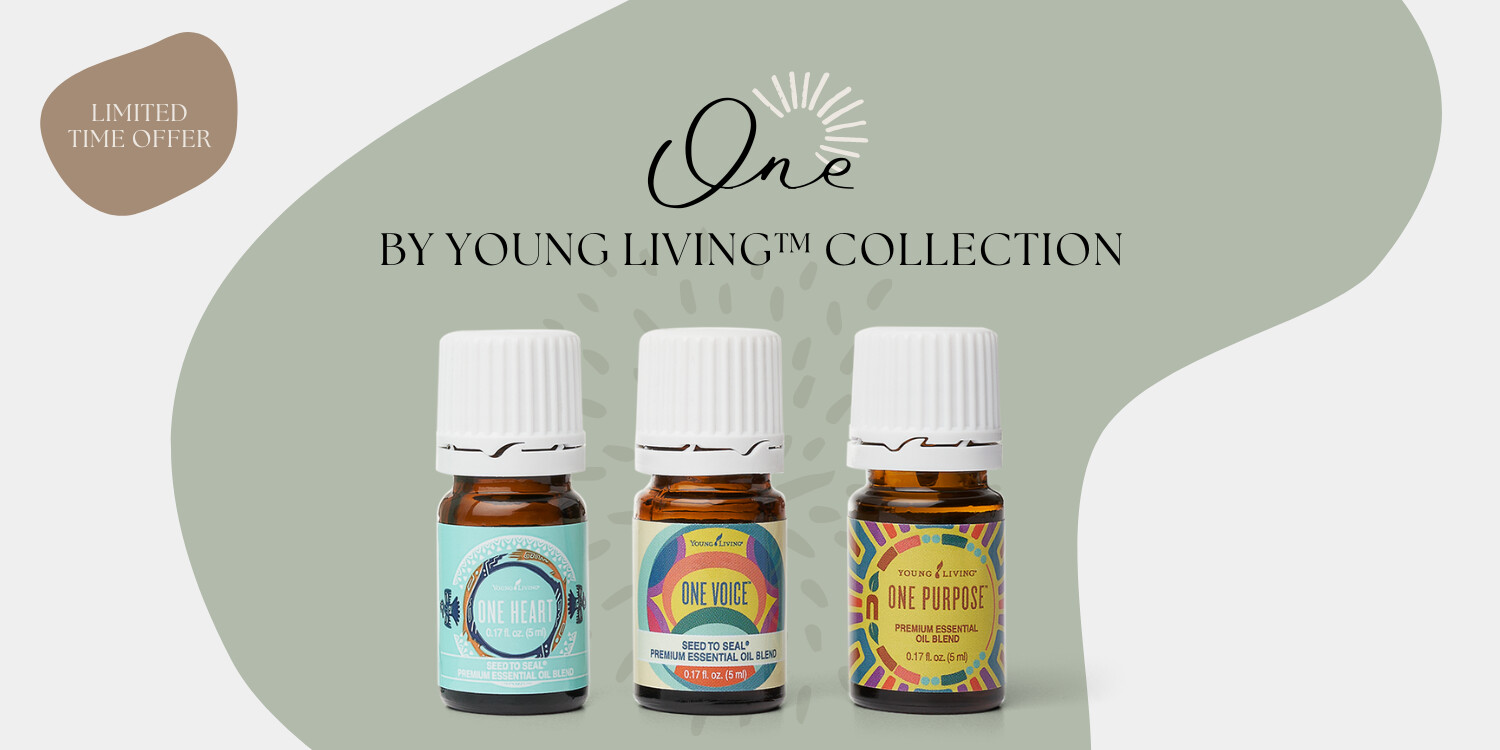 The One by Young Living collection features three incredible, complex essential oil blends crafted in collaboration with The D. Gary Young, Young Living Foundation: One Heart, One Voice, and One Purpose. Each blend supports a Foundation partner, local artisan or cause and every purchase helps expand our impact on the world.
ONE BY YL COLLECTION (5mL bottles)
One Heart: Slightly sweet, uplifting and refreshing aroma
Encourages a bright outlook on life
Opens your heart to love and service for others and encourages unity and connection with community
Blend of Lime, Lemon, Jasmine, Geranium, Spruce and Frankincense as well as other oils
One Voice: Complex bouquet of exquisite floral and grounding, woodsy essential oils
Promotes feelings of self-confidence and clarity with its warm, inspiring aroma
The encouraging aroma supports you in speaking your own truth and using your voice to help those in need
Blend of Spruce, Sandalwood, Fir, Rose, and Frankincense with a bit of citrus and spice
One Purpose: Centering, enlightening and uplifting aroma with a hint of zest and soft floral notes
Subtle layers and depth of this blend enhance the connection to your own personal strengths and purpose
Represents the power of being united and the strength that comes from supporting each other in our purpose
Foster courage and become aware of your own life's purpose and discipline, carrying your purpose forth with you each day
Blend of Lime, Frankincense, Ylang ylang, Ocotea and other oils
A portion of the proceeds from these essential oil blends goes to The D. Gary Young, Young Living Foundation, which supports underprivileged communities.
One Heart: Sesquiterpenes, monoterpenes, limonene
One Voice: Alpha-pinene, germacrene D, linalool, benzyl acetate
One Purpose: Limonene, alpha-pinene, beta-pinene, gamma- terpinene, germacrene D
Diffuse One Purpose at home to enjoy the enlightening, uplifting aroma.
Apply any of the blends daily to support your own connection to your unique purpose as you help others find theirs.
Use one of these blends in massage, Vita Flex, or reflexology
Use it alongside the Feelings Collection.
Apply One Voice topically for a personal aroma that promotes feelings of inner self-confidence and clarity.
Use One Purpose in your prayer, meditation or spiritual practice to foster courage and become aware of your own life's purpose.
One Heart: Place 1–3 drops on your chest with these intentions: My heart is full of love, compassion, joy and freedom. One heart together with many.
One Voice: Place 1–3 drops on your neck with these intentions: I express my truth and value easily through my one voice.
One Purpose: Place 1–3 drops on the top of your head with these intentions: I focus my life's purpose with courage, strength and keenness of vision to guide me.
RELATED PRODUCTS