Jul 25, 2022 12:05 PM Central
Dr. Nozella Brown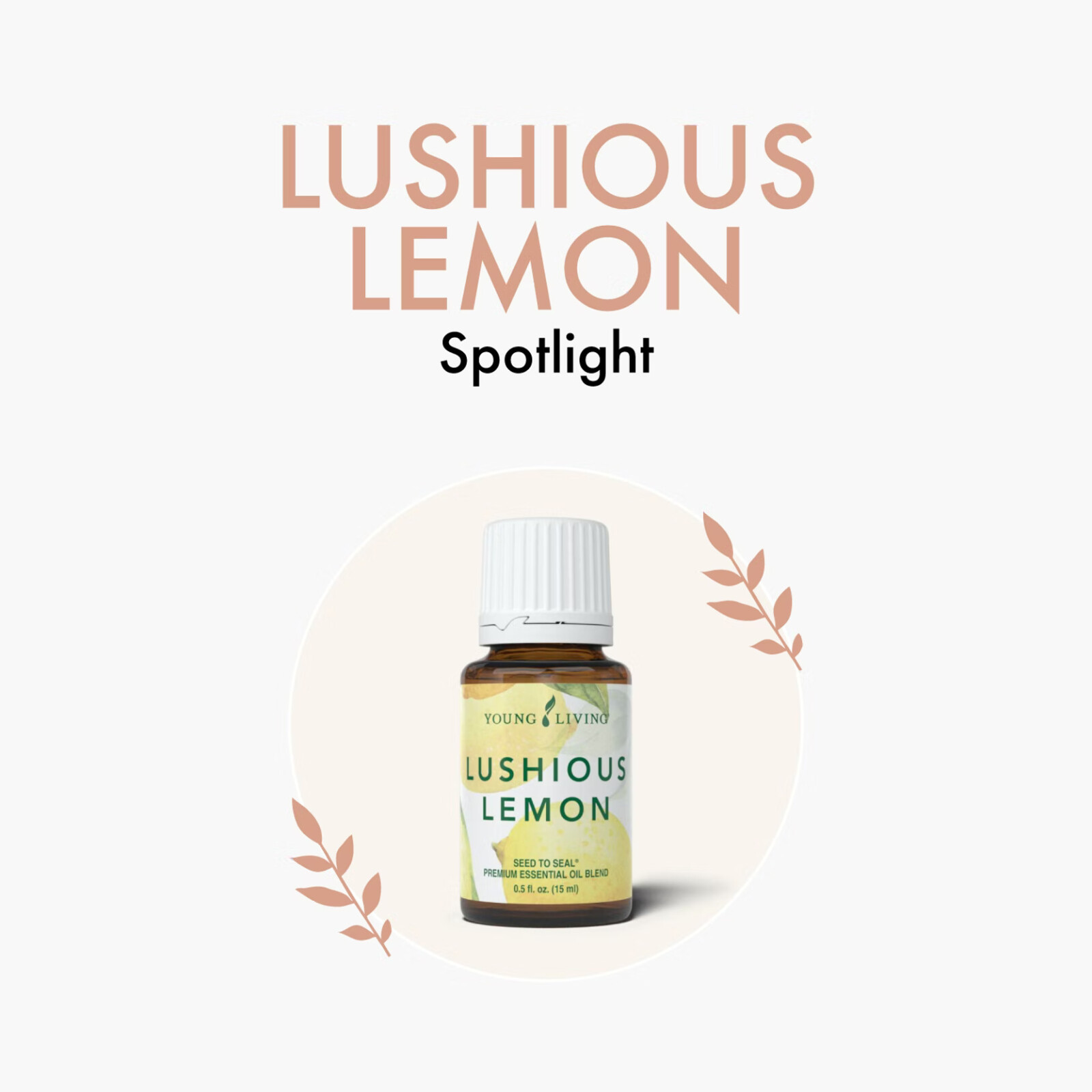 Bath & Body Works has nothing on this incredible scent! Lushious Lemon Essential Oil Blend can rival any candle in its ability to freshen a space, and it comes without all the toxins of a scented candle. Plus, this bright, happy blend is infused into hand soap and lotion, so we get all the good stuff and none of the bad.
JUST A DROP OF LUSHIOUS LEMON…
Has a bright, fresh, uplifting aroma
A great way to brighten and freshen your space
Can be diffused throughout your home to create a positive atmosphere
Features Lemon Myrtle essential oil, known for its odor-neutralizing properties
Includes Ylang Ylang essential oil, known for its joyful floral aroma
Has a sweet, citrusy aroma with floral and minty undertones
Makes a great addition to bath and body DIYs
Adds a lovely citrus twist to home and cleaning DIYs
BACKGROUND
Lushious Lemon essential oil blend features Lemon essential oil that is cold pressed from fruit grown on the Amanzi Amahle Cooperative Farm in South Africa, as well as Lemon Myrtle essential oil that is extracted from steam-distilled leaves of the myrtle plant. Floral Ylang Ylang, obtained from plants grown in Madagascar, and cool Spearmint and Eucalyptus Globulus round out the aroma, adding a touch of herbal depth.
KEY CONSTITUENTS
Constituents are naturally occurring compounds in plants (and therefore essential oils) that give them sprecic health-supporting properties
Limonene: known for its anti-inflammatory, antioxidant, anti-stress support, this is a powerful constituent with many health benefits
Gamma-terpinene: a potent antioxidant, Chinese medicine believes that this constituent may halt the advance of unwelcome microbes, reducing the risk of colds and 'flu-like symptoms.'
Alpha-pinene: a powerful antioxidant, some studies have shown alpha-pinene to support the body through inflammation and to help calm the mind.
Eucalyptol: eucalyptol has a distinctive, fresh aroma that has a calming effect on the user when applied in aromatherapy.
LUSHIOUS LEMON & EMOTIONS
This blend is a wonderful choice for encouraging joyful, abundant thoughts and emotions. Ylang ylang is well known for its use in aromatherapy to help release stress and anxiety, and is especially helpful when battling low self-esteem and confidence. Lemon and Lemon Myrtle have a cleansing, uplighting scent that is wonderful for processing feelings of frustration or lack. The crisp scent of Spearmint and Eucalyptus is also good for releasing physical and emotional tension. So when you combine all these oils into one blend, you have a wonderful option for emotional support!!
PRODUCT OPTIONS
DAILY HABITS WITH LUSHIOUS LEMON
Note: As with citrus oils, avoid direct sunlight or UV rays for up to 12 hours after applying Lushious Lemon.
Household
Make a DIY Mattress & Upholstery Spray for refreshing linens and mattresses with each sheet change or every time you make the bed. Switch up the oils as you like:

8oz glass spray bottle
2 tsp Thieves Household Cleaner
20 drops each Lushious Lemon, Lavender
Fill with filtered water

Diffuse it in your kitchen to help brighten the space or cleanse the air of cooking odors.
Diffuse it to neutralize unwanted odors throughout the home and fill your space with its cheerful aroma.
Add 40 drops of Lushious Lemon to your Thieves Household Cleaner for a fresh, spring scent.
Add Lushious Lemon to dryer balls for fresh, citrusy smelling laundry. Use 3 drops per wool dryer ball.
Use Lushious Lemon in this DIY Laundry Scent Booster

To a large glass jar with airtight lid, add
1 1/2 cup salt Epsom Salt
1/2 cup baking soda
40 drops Lushious Lemon
Whisk together until all ingredients are well combined.
To use: add 1-2 Tbl into the washer before adding any laundry. Add laundry and the normal amount of laundry detergent.
Personal Care & Beauty
Inhale Lushious Lemon for a mid-afternoon reminder of sunny days.
Diffuse Lushious Lemon (or one of the blends below) while you journal, meditate and process any feelings of lack, frustration or low confidence.
Make the bright, luxe scent part of your signature personal fragrance.
Add it to V-6 Vegetable Oil Complex in a roll-on bottle and apply topically to your chest and the crown of your head to promote feelings of joy and ease.
Apply it to your neck or wrists to create a soft, sweet personal fragrance. Use alone or pair it with Vanilla, Lavender, Grapefruit or Bergamot.
Make this Sunny Days perfume roller:

10mL roller bottle
20 drops Lushious Lemon
5 drops each Geranium, Grapefruit, Bergamot
Fill with carrier of choice

Whip up a Spring Blossoms room spray:

2oz glass spray bottle
20 drops Lushious Lemon
10 drops Tangerine or Orange
10 drops Joy or Geranium
Splash witch hazel
Fill with filtered water
DIFFUSE:
Diffusing is a wonderful health habit! We have our diffuser going almost 24/7 and love to choose blends that are supportive of individual needs or systems. Try some of these great combinations and enjoy the bright, fresh scent of Lushious Lemon!
Good Morning: 6 drops Lushious Lemon, 4 drops Peppermint
Fresh Flowers: 4 drops Lushious Lemon, 3 drops each Geranium, Grapefruit
Greenhouse: 6 drops Lushious Lemon, 4 drops Cypress
Cloudy Day: 4 drops Lushious Lemon, 3 drops Bergamot, 3 drops Vetiver
Fresh Rain: 6 drops Lushious Lemon, 4 drops Clove